As most of you know it is Fitness Friday! Today I will discuss with you the importance or running and weight training. Most people will say that as long as you run, you will be fine. Well that is true but in a way, it isn't. Yes running is awesome and helps you trim down but it also does a number on your joints and your muscles. To add to it, when it comes to weight loss, you may end up running in circles. this is because, with most forms of traditional steady-state cardio, you burn lots of calories while you're exercising. The problem is, when you stop, you go back to your normal metabolic rate. On the other hand, when weight training, you build muscles and more muscles equal more calories burned! Am I saying stop running? NOT AT ALL! I am saying don't just run. Especially if you are trying to lose weight as well. Muscles are like thirsty little sponges. The more you have, the more they soak up. Fat is like a delicious chocolate smoothy to muscles. They love it!
I know it may seem like with you having all the muscles you have in your body, that we all should be thin and fit. Well the reason why we aren't is muscles can only slurp up a certain amount of fat at a time. So the more muscles you have, the better. Now, with running it does have it's downfalls like joint pain and joint issues, it is also great for you as well. When you run, you are getting your heart rate up. The higher your heart rate, the more the blood flows to your muscles. Making them soak up more fat for fuel.
So, If what I am saying is, yes it is nice to one, but when you put the 2 together, it will make for one sweet fat shredding body. So a great recommendation is to run 3x a week and weight train 2x a week as well. This way you are getting the best of both worlds and are also letting your muscles rest a bit from the other exercise. If you don't have the luxury of having any weights laying around or if you are like me and really don't have the funds for a gym membership. You can do body weight workouts which uses your own body weight as the weights. You can find some awesome body weight workouts at
50 body weight exercises!
. I Also recommend you join a C25k. (couch 2 5k) This is a program that allows you to go from not running at all to running 5k in about 8 weeks. A good one to use is
C25k
.
Fitness Friday is happily brought to you in conjunction with the
Fitness Friday Link Up
by Running Bloggers!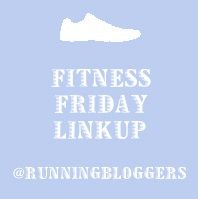 Sleep well, eat right and don't forget to Sweat Pink!